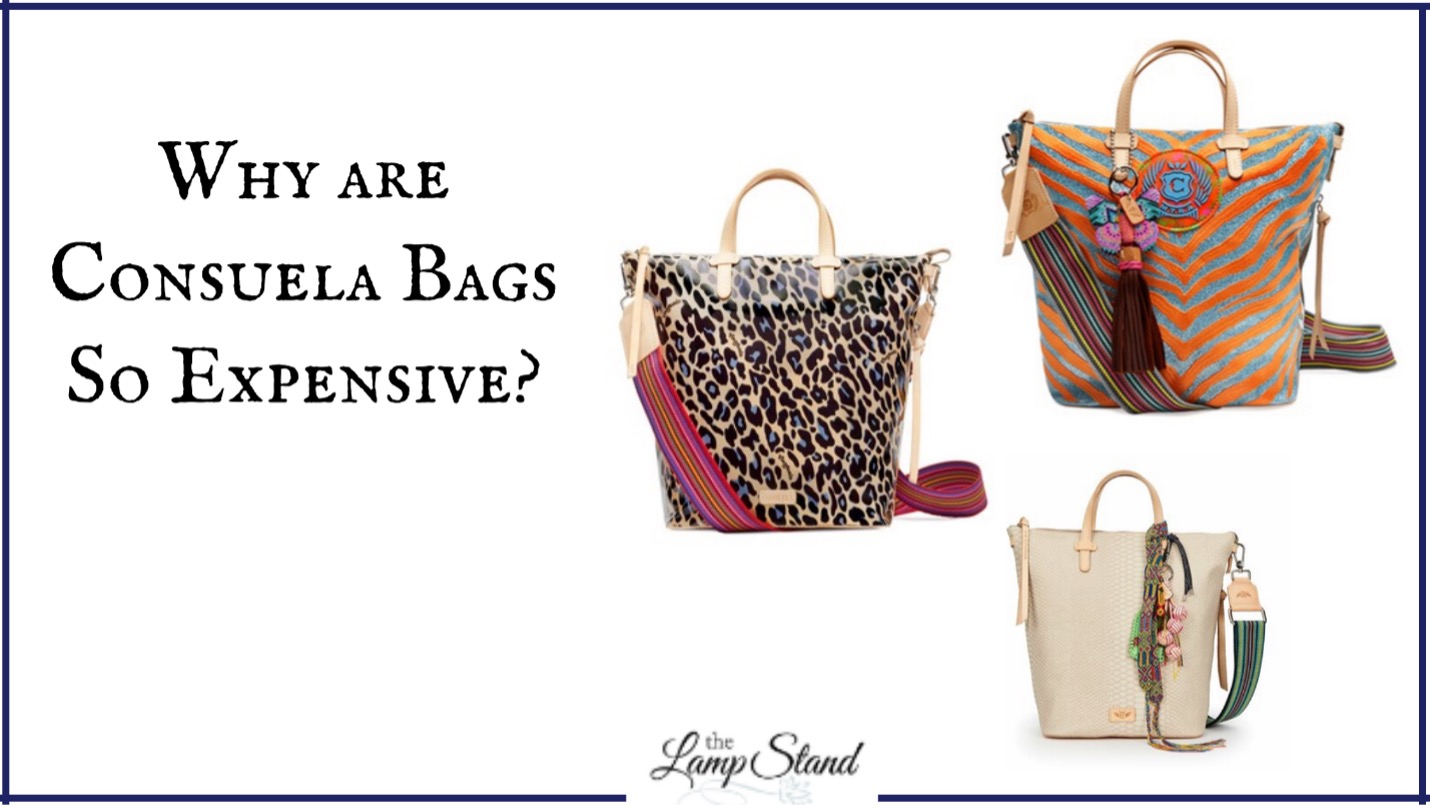 Tired of old-fashioned bags that make you look dull and not so posh?

The right selection of accessories particularly bags reflects your personality. When you step out in the public eye, your bag is the first thing that draws people's attention. From formal to casual, no look is complete without a sleek and streamlined bag. That's why attractive women with a high-end luxury taste opt for Consuela bags, intentionally designed for versatility with premium quality. Consuela bags are high-end luxury bags perfect for the brave and beautiful.

The September of 2005 marked a new era in the history of the fashion industry when Consuela bags, (a Texas brand) was officially launched to add a candlelit glamor to your personality. Consuela bags particularly Consuela sling bags add a queenly spark to your overall outfit and projects your personal style making people remember you for your perfect chic look.

Consuela bags and Consuela sling bags are in a class of their own, known as ultra-unique fashion bags that speak their prestige in their own way. Consuela bags especially Consuela sling bags are one of the most pleasurable and radiant bags that the fashion industry has ever seen, featuring diversified colors, textures, styles, and materials – offering a style that fits every fashionista's taste.

The brand is known for making waves in the industry with its sensational patterns, high-quality materials, and swoon-worthy designs.

Consuela bags in general and Consuela sling bags, in particular, are some of the most expensive fashion bags.

Why are Consuela bags so expensive and are they worth your money?

According to a popular saying,

'You get what you pay for'

Consuela bags are expensive but these high-end fashion bags are worth every penny that you pay, following are the features and benefits of Consuela bags that make them expensive but worth having.

Consuela bags are durable – Consuela bags and Consuela sling bags are expensive because they are manufactured with high-quality materials picked up from premium sources; make the bags durable and let you enjoy your investment for years.

The Consuela bags are known for the fact that they look brand new even after 10 years of usage. The signature Consuela cloth makes Consuela bags easy to clean and long-lasting. Scratch-resistant and water-resistant features and ease of cleaning make Consuela bags excellent.

Elegant embroidery – Consuela bags feature elegant embroidery and radiant accents that are beyond compare.

Remarkable craftsmanship – Consuela bags are expensive because of the remarkable craftsmanship that goes into every single piece; the striking colors, rare pattern, robust construction, and tantalizing designs that are simply unique, sometimes unmatched, and outrageous.

Uplifting colors and unexpected patterns – Consuela bags feature uplifting colors and unexpected patterns that have vibrant look. The colors and patterns of Consuela bags embrace the founder's (Conni Reed) philosophy – THE ART OF THE UNMATCHED. The design philosophy serves as the core trademark of the brand. Design philosophy amalgamates ambitious and contrasting fashion ideas for an unexpected outcome. This unique philosophy of the Consuela brand is second to none and serves as the foundation that inspires each collection of the brand. It uplifts the mood of its customers. Consuela catalog gets you hooked with its amazing collection of vivid and fun colors to select from, giving you a radiant glow and a statement look. Moreover, Consuela bags give you delight in being alive.

Consuela a lifestyle brand – Consuela is not just a luxury brand but it is a lifestyle that impacts its customers by producing inspirational Consuela sling bags that gives the customers a joyous experience. Consuela bags are expensive as they are inspired by the brand's partnership with exceptionally talented artists and manufacturers from around the globe. The Consuela sling bags are versatile, resilient, tough, and beautiful, epitomizing the persona of whoever wears them. Consuela admires people and the brand's philosophy revolves around positivity and uplifting people.

Community-Oriented - Unlike other brands that are only focused to make a profit for themselves, Consuela is a community-oriented brand committed to its customers. The brand has a program named 'It's Not About the Bag' where they give back to women from all walks of life once they are nominated, leaving a positive impact on society.

Consuela holds artists in high esteem – the characteristic that makes Consuela stand out from other brands is the long-standing relationship with talented artists who belong to diverse cultures. The brand is committed to preserving culture and providing progress and acknowledgment.

Consuela is for everyone – Consuela bags are not restricted to a particular age group. The brand caters to the needs of everyone. Whether you are an enthusiast shopper or simply a lover of stylish handbags, Consuela has got you covered.

Consuela bags are specifically designed - Consuela bags are special because they are specifically designed for modern trends and fashion. They come in different styles to match different tastes. If you want to put on a fashionable look that will make an impression, then you must consider purchasing a Consuela bag.

From beach parties to dates, from formal dinners to weekend tours, Consuela sling bags complement any outfit or costume.

Additionally, Consuela bags are expensive as these luxury bags are multi-functional. These bags are high-quality leather bags ensuring their durability and you can also use them as grocery bags.

Consuela bags are large and have many zips and pockets making it convenient for you to hold a large number of belongings. The bags are outfitted with adjustable straps, offering several carrying styles. Consuela bags are available in different colors like Glamity, pearl white, coco, Maria, and Zoe.

Manufactured from high-quality material - Consuela bags are luxuriously iconic pieces. They are manufactured from high-quality leather material - the bags and their straps are pure leather.

A Consuela bag handle is manufactured with 100% leather with zipper closings on the top and inside. The bag's jewelry-class accessory and hardware pronunciations can easily double as a bracelet. Yet, Consuela bags are compact and lightweight. You can easily carry them for a long time without feeling a strain in your arms.

Reliable brand – Consuela is not just a great brand but it is one of the reliable brands. The brand gives excellent customer support; they promptly respond to customer queries. It has maintained a winning rating and stands among the top-rated brands.

Discounts and coupons – Consuela offers discounts and special coupon codes to its customers, creating a room for everyone to experience the top-notch revolutionary designs and patterns of Consuela bags.

Consuela is best for sling bags – Consuela is considered to be the best brand when it comes to sling bags. These elegant Consuela sling bags are exclusively designed for versatility and can be worn in three stylish ways: over the shoulder, as a cross-body, or carried by its leather handles. Consuela has a diverse collection of sling bags that includes the following;

Consuela Blue Jag Sling:

Consuela's blue jag sling bucket bag is a high-quality designed Consuela sling bag that you can wear as a cross-body, carry by its leather handles or over the shoulder. Its interior pockets and key lanyard are a perfect fit to organize your essentials.

It has a credit card pocket, interior slide pocket, and lanyard. It has a glitter denim interior lining. It includes two detachable straps: an adjustable woven cross-body strap and a leather shoulder strap.

Consuela Thunderbird Crema Snake Sling:

Consuela thunderbird crema snake sling is among the most loved Consuela sling bags. This stunning marvel is available in overwhelming prints, leather, and materials that will make you crave more Consuela sling bags.

It comes with a detachable leather shoulder/sling strap, leather clutch handles, and a detachable webbing cross-body strap. With its side zipper and interior pockets your lip-gloss, keys, phone, and passport are kept safe. It is compatible with the Consuela sling bag detachable straps collection.

Consuela Lil Matt Sling Bag:

Consuela Lil matt sling bag is a gorgeously designed bucket bag that gives you the ultimate comfort and makes you look attractive.

Consuela Songbird Sling Bag:

Consuela songbird sling bag is a beautifully embroidered sling bag. Its unique embroidery looks highly graceful and opulent.

Consuela bags are not just bags but they are a vibe, a way of living and all of Consuela bags reflect that exuberance.

Care for a Consuela bag - Consuela bags are highly valuable and durable. Its finest quality material makes it easy for you to clean the Consuela bag and it is effortless to maintain its elegant design for a long time. You can simply use soapy water with a non-scratch sponge to remove sticky stains. You can also use clothes detergent or dish-washing detergent to clean. Avoid using body and hand soaps as their oil leave stains on the bag.


The Consuela bags are expensive but they are worth the price as Consuela bags personify delightful and bold fashion; these bags are durable, appealing, and not even that expensive when compared to their features. If you are looking for comfort yet class, then Consuela bags are without any doubt worth investing in.