Winter is here, and if you live somewhere with chilly weather it's time to pull out your winter wear. Over here at The Lamp Stand, we love women's winter fashion, and the 2021 fashion trends for winter are right up our alley.
Winter 2021 is continuing the fall trend of a neutral color palette, soft fabrics, and lots of layering. So today we're going to show off three of our favorite winter outfits for women this winter.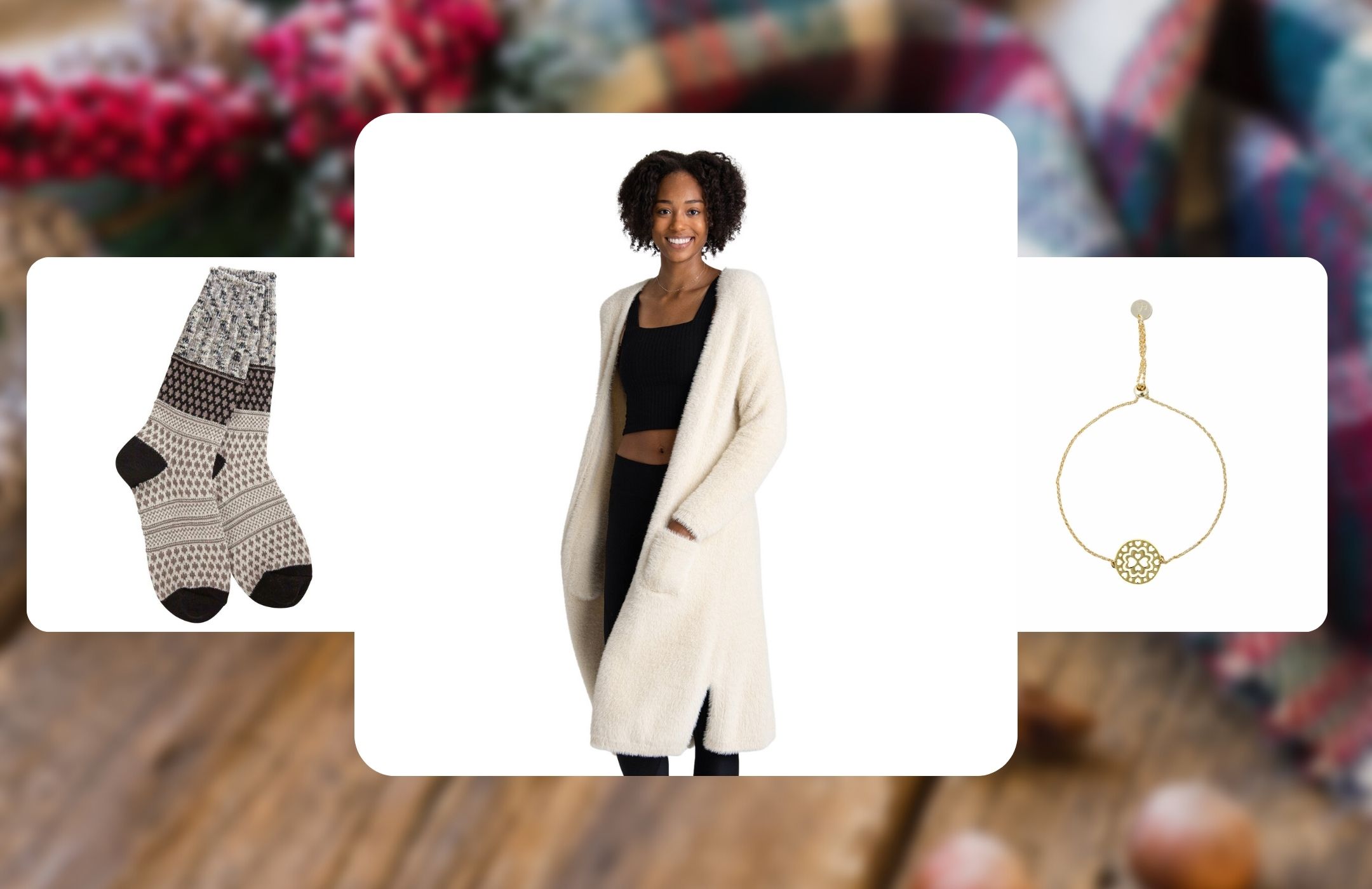 Cozy At Home
One of the best parts of winter is staying curled up at home, spending time with family. You want to dress comfortably, but still maintain your sense of fashion. We've got the perfect outfit for that. The main piece is the Mer-Sea Iced Chalet Duster. This soft, elegant duster features a pocket and is designed with a simple shape to complement any figure.
This versatile duster can go over any top, and lets you layer for a very cozy feel.
We love pairing this duster with an elegant, everyday bracelet like the Pieces of Me Loving Adjustable Chain Bracelet. Additionally, this simple bracelet's gold tone complements a plethora of outfits.
To finish this outfit off, we paired the oatmeal Confetti Gallery Textured Crew socks from Crescent Sock Co. These, 'world's softest' socks come in a warm natural color and aren't too bulky to be worn under boots, but they're still warm enough on their own.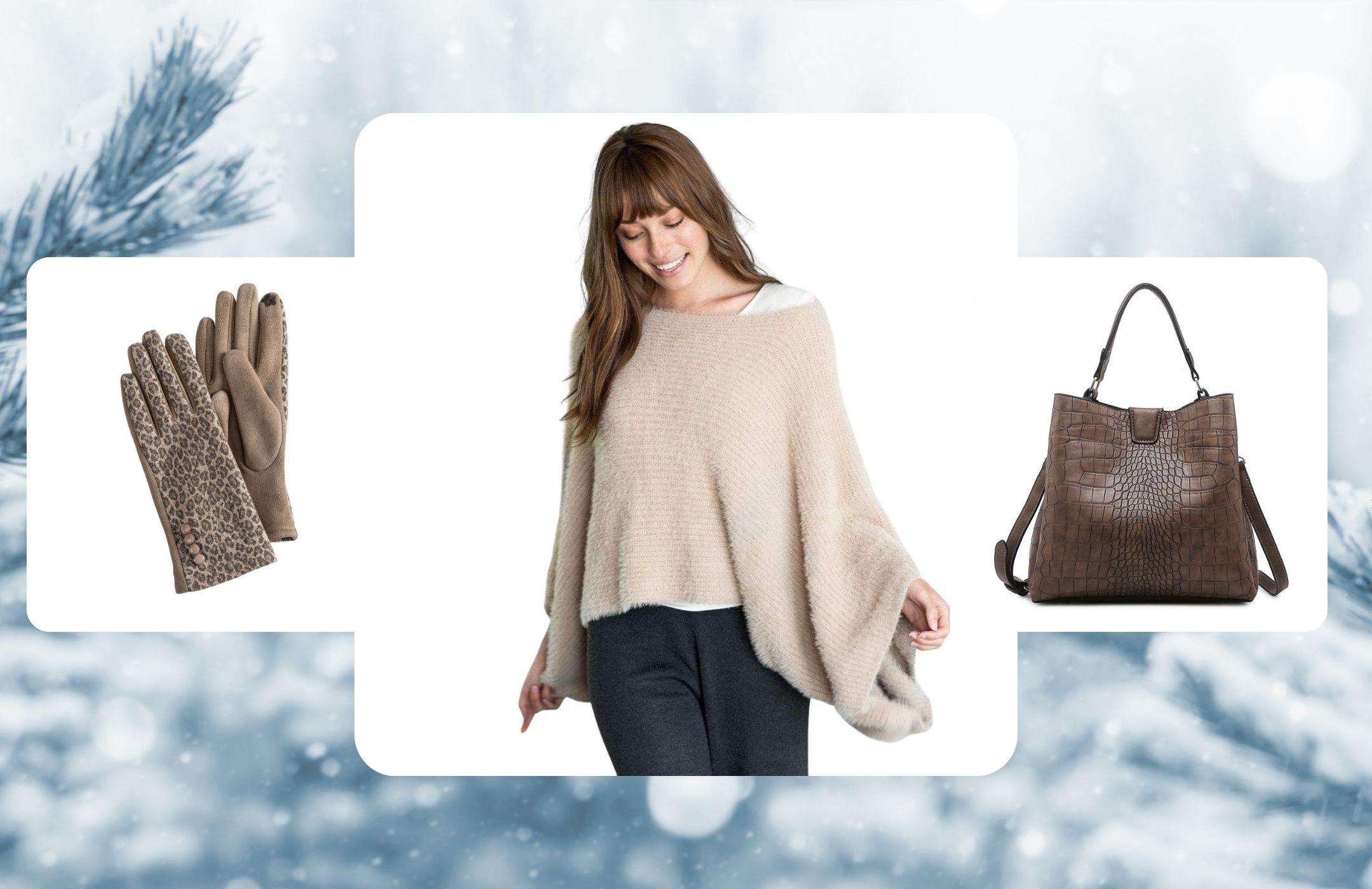 Everyday Errands
When it comes to winter clothes it seems like there are always two choices: warm clothes and trendy winter clothes. We think this outfit gives you the best of both. The main piece of this outfit is the Dusty Chalet Slouch Sweater by Mer-Sea.
This beautiful sweater has a loose fit so it's one-size-fits all, and we love that. The warm, beige color is right on trend and pairs well with a wide array of colors.
If you're running around getting things done, you need a bag to keep up with you, and our pick for winter is the Jen & Co. Crocodile Chocolate Tati Satchel. It has two main compartments and a magnetic snap closure and an adjustable shoulder strap so you can customize your fit.
To finish off this look we recommend the Brown Animal Print Gloves by Howard's Inc. These elegant gloves feature a button detail near the wrist and are fitted, the perfect counterpoint to the oversized sweater.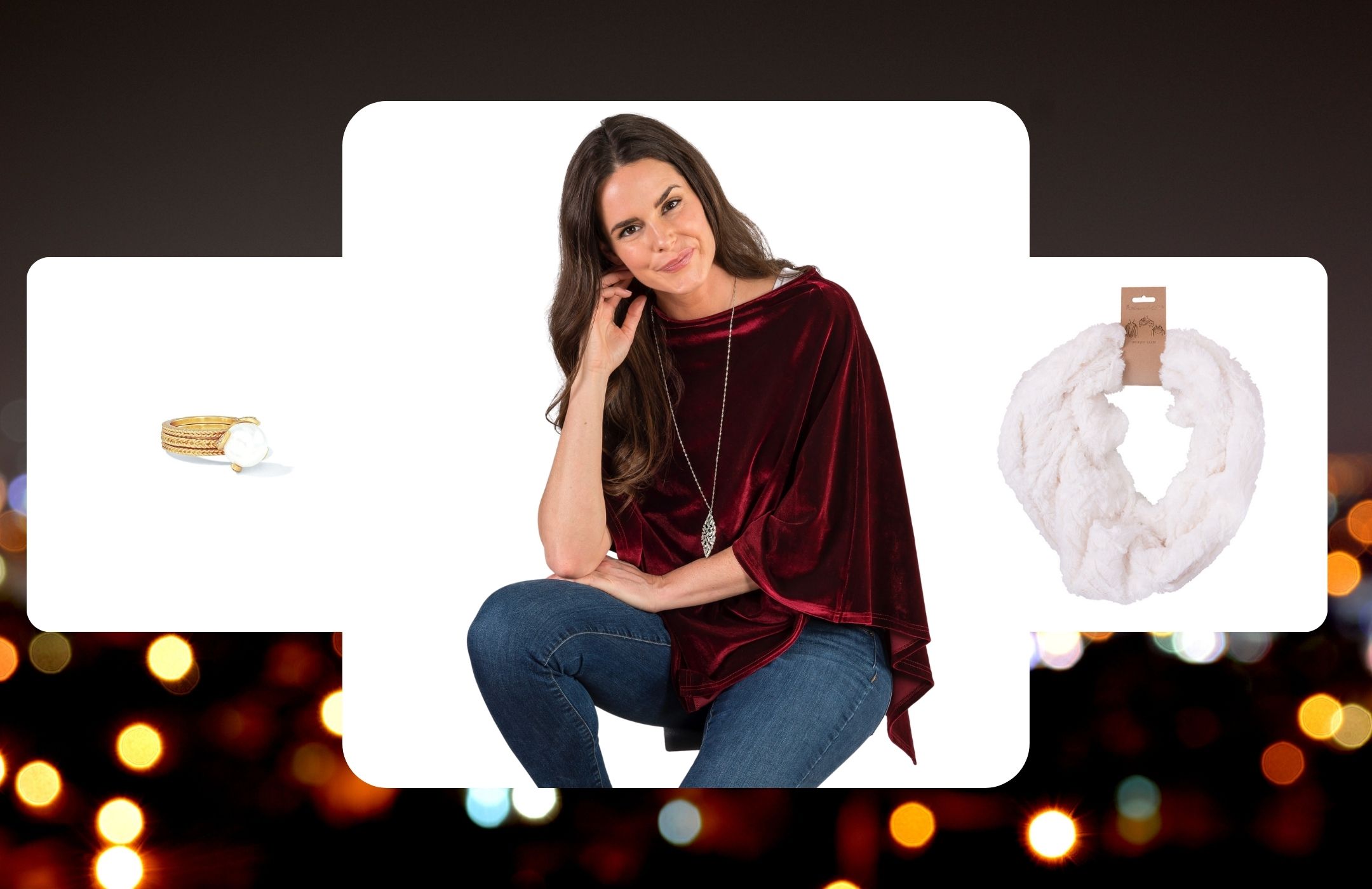 Night Out
Whether it's a holiday party or a date night with a special someone, everyone needs a cute winter outfit to show themselves off despite the chill. If you're looking for an elegance piece to take any outfit from date to evening, we suggest the Ruby Velvet Poncho by Howard's Inc. This one-size fits all poncho comes in green, blue, black, and red, so you can complement any outfit.
We love gold and pearl pairings when it comes to winter jewelry, which is why the Julie Vos pear with CZ is a must for your night-out look. This beautiful ring features a detailed three-piece band and a beautiful pearl topper that will look great with darker colors and pop on an evening out.
Complete this look with the Fur Cowl Scarf by Amanda Blu. This scarf is made from plush, faux fur and comes in a variety of colors so you can mix and match with all your night-out attire. As an added bonus, this scarf will be super easy to dress down if you want to wear it during the day.
Final Thoughts
Those are our three favorite outfits this winter. None of them your style? Check out our women's fashion page to see even more great winter outfit ideas and build your winter wardrobe in a snap!
Also, never forget to tag us in photos via social media when you get your winter haul. We can't wait!
Happy Holidays
- Jerika + The Lamp Stand